Do you have a new dachshund puppy that is out of control? It can be frustrating trying to train them when they simply won't obey and act restless and out of control.
Many new dachshund owners find that their puppies are difficult to handle at first. The good news is that there are a few things you can do to get your doxie under control.
In this blog post, we will discuss some of the reasons your dachshund might be out of control and how to fix it. So, if you're struggling with a naughty pup, keep reading!
Dachshunds are hunting dogs, they are very intelligent, cunning, and courageous. Unfortunately, they are also very stubborn and difficult to train. These make them difficult to control, these dogs have a strong personality and usually do what they want, even if it annoys their owner.
But all of this can be solved with good training, enough exercise, and mental stimulation. Sometimes what dachshunds need is to be entertained, burn off energy, and have some discipline.
When do dachshund puppies calm down?
Dachshunds are adorable, energetic little dogs that can be prone to destruction. They begin to calm down when they reach the first year of age, but they still have very active personalities until they're 3 or 4 years old.
The first 6 months of age are the hardest when raising a dachshund puppy. In the first six months, they will have to potty train your dachshund, deal with the teething period, and put up with the antics of your new dachshund. At this stage, dachshunds are very curious and want to discover the world they live in, mainly with their mouths.
After six months. Your dachshund will begin to calm down little by little until he is 1 year old. After six months of age, your dachshund should be a little more obedient and easier to control. Your doxie will be used to the rules and routines of the house. But it will still be full of energy that if it is not used in walks or games, it will be used in mischief.
Once your dachshund reaches the first year of age, he will be calmer than when he was a puppy. Dachshunds reach adulthood by one year of age. At this age, they will not have as much energy as when they were puppies. But, they will still be very playful. They will stay that way until they are 3 or 4 years old when they will calm down even more.
Related post: How do I stop my dachshund puppy from biting?
Why is my Dachshund puppy so aggressive?
Dachshund puppies are known for being especially playful and sweet, but sometimes they can display unexpected aggressive behaviors. If your Doxie is biting or growling at people or other animals, it's important to figure out why this is happening and how to correct it.
The Dachshund, also known as the "badger dog", was bred to be an aggressive hunting breed. Dachshunds were used for their courage and aggressiveness to track and hunt animals larger than themselves. Although dachshunds are now domestic animals, some of these dogs still have the instinct and character of their ancestors.
Dachshunds need mental stimulation and physical activity to keep themselves calm. When this is not the case, dachshunds can become anxious and bored. Which can result in bad behavior like destroying everything they can and aggressiveness towards other dogs and humans. Also, Dachshunds can be quite territorial when it comes to food, toys, and even people. If they are not well socialized and trained, this territorial instinct can turn into aggressiveness.
Some common reasons for puppy aggression include fear, excitement, and territoriality. If you're having trouble dealing with your pup's aggressive tendencies, you need to put more effort into training your dachshund and take him out for walks more often so that he burns his accumulated energy and gets to socialize with other dogs and people. This usually helps correct aggressive behavior in dachshunds.
If you don't have time to take your dachshund for a stroll every day consider hiring a dog walker to walk your dog when you are busy. If the aggressive behavior persists or becomes dangerous to other dogs or people, consult with your veterinarian or a qualified dog trainer for assistance. With patience and understanding, you can help your puppy overcome this troublesome behavior.
Related post: How do I stop my Dachshund from being aggressive?
How to calm a Dachshund puppy
Early Socialization
Dachshunds are usually quite possessive of their owners and they are also a very territorial breed. This means that they do not always react well to visits from both people and other animals. If your dachshunds go crazy every time someone comes home for a visit and misbehaves around other dogs, then your dachshund needs socialization. Socialization consists of exposing your dachshund from a puppy to other people and dogs so that it learns to be calm when it is with strangers. You can start to socialize your puppy slowly, taking him for a walk through different streets so that he gets used to meeting different people. Take him to dog parks and try to get him to socialize with other dogs. Do it little by little, if your dachshund looks nervous or uncomfortable, get him out of there and try again another time.
Persistent Training
A little discipline can also help control a runaway puppy. Start training the dachshund to obey basic commands like, come, stay, leave it, sit, etc. Training serves as a way to mentally stimulate dachshunds. Dachshunds are notoriously stubborn, which makes them difficult to train, but with a little persistence and lots of dog treats, your dachshunds will begin to obey basic commands. The training also serves to establish your leadership at home. If you do not discipline your dachshund, he will believe that he is the head of the household which will make it very difficult to control. Use obedience training to teach your dachshund who is the head of the house.
Related post: Are Dachshunds Easy to Train?
Plenty of activity and exercise
Dachshunds are quite energetic when they are young. If this energy is not used correctly, your puppy will find its way to burn that energy. That can be running around the house like crazy, chewing on everything he finds, or acting aggressively around other animals and people. The best way to avoid this is to get your dachshund to exercise. Taking your dog for a walk every day is the best way to exercise your dachshund. You can also take him to the dog park to play with other dogs. Another way to make them burn all that energy is to make them play fetch with a tennis ball or dog toy. A dachshund without pent-up energy is a calmer dog and easier to control. The good thing for you is that dachshunds have short legs which makes them tire faster than other dogs, so exercising your dachshund won't take long.
Related post: Why Is Socialisation So Important For Dachshunds?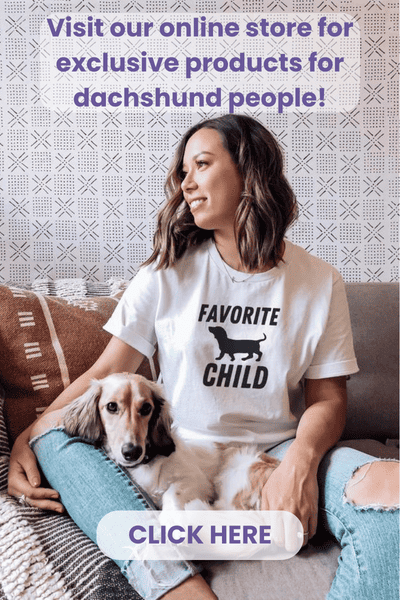 Final thoughts
As a dog owner, you want to provide the best life for your pet. That means giving them plenty of quality time with family members, not just sitting on the couch all day long without going outside or playing fetch. If your pup is getting out of control then it might be that it's not socialized properly, didn't get trained at a young age, or is lacking exercise.
The best way to make sure your dachshund pup is healthy and happy is by socializing them early, getting enough exercise for their age, and training them at a young age. This will help avoid behavioral issues in the future!
Related post: Dachshund Training Guide: Tips & Tutorials to Train a Dachshund