Why Do Dachshunds Burrow Under Blankets?
Sure, all dogs like to burrow under blankets or pillows, but dachshunds take this behavior to a whole new level. Why do these little dogs love to tunnel their way under coverings? Let's take a closer look at the dachshund's personality and find out!
Dogs, in general, are denning animals; they like to sleep in small protected places where they feel warm and safe. Dachshunds were bred to hunt small burrow-dwelling animals like badgers, by flushing them out from their dens.
This shows in their behavior by burrowing in blankets and pillows. They also like to curl up with other dogs. Dachshund puppies also tend to burrow in the clothes of their owners like sweater sleeves. 
Why do Dachshunds bury themselves in blankets?
Dachshunds were bred to hunt small prey that lived in burrows. This is why they like to bury themselves in blankets; it makes them feel safe and warm like they are in their little den.
When your Dachshund burrows under the covers it is a sign that they feel comfortable and secure with you. It is a way for them to show their affection. So, if your Dachshund likes to burrow under the covers, it is a good sign that they trust and love you.
Dachshunds are also known for being stubborn and independent, which may be another reason why they like to burrow under blankets. By burrowing in their little den, they can feel safe and in control.
Whatever the reason, it is clear that dachshunds love to burrow under blankets! If you have a dachshund, you may find them hiding in blankets and pillows quite frequently.
But this playful and adorable behavior is just one part of what makes these little dogs so special. So, enjoy snuggling up with your burrowing dachshund and watching them explore their furry little den!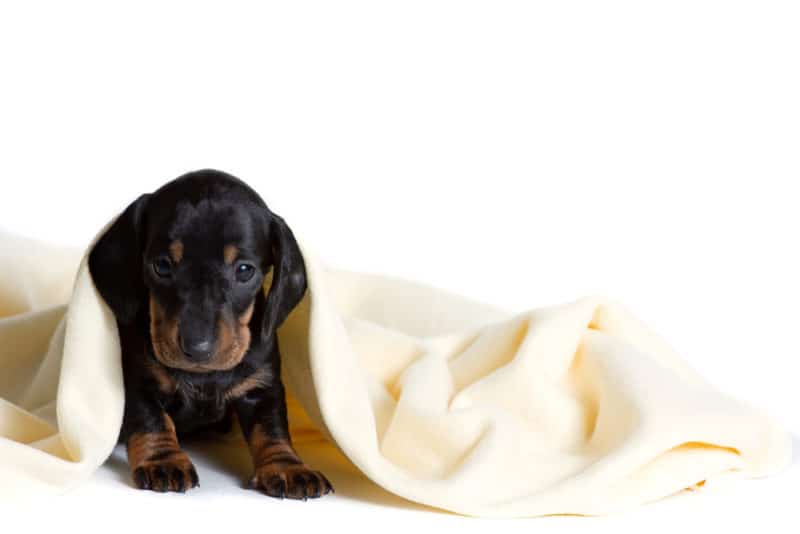 Does Every Dog Burrow?
While all dogs may have the instinct to burrow, some breeds are more likely to do it than others. Dachshunds, for example, were bred to hunt small animals that lived in burrows. This is why they have a strong urge to burrow.
Other breeds that are known for their love of burrowing include terriers and hounds. These breeds often have very active and playful personalities that may also contribute to their burrowing behavior.
Whether your dog loves to burrow or not, it is important to understand why they do it and how we can help support this instinctive behavior in our canine companions.
When it comes to why dogs burrow, many different factors can play into their behaviors. Small-prey hunters, like terriers and Dachshunds, tend to mimic their innate behaviors of flushing out small rodents or animals from tunnels by burrowing beneath the ground themselves.
These types of dogs are naturally inclined to engage in hunting behaviors that involve tunneling or burrowing.
On the other hand, larger burrowers, like Huskies, may have an innate instinct to burrow to stay warm in extremely cold temperatures. Burrowing simply provides them with a means of staying warm and insulated from the elements.
Other dogs simply enjoy the tactile sensation and rhythmic motions of digging and burrowing through dirt and snow. Whether for warmth or fun, many dogs simply love to burrow!
Burrowing can also be seen as a sign of hunting behavior in some dogs. Dogs may bury bones or toys as part of their innate drive to hunt for food or as an instinctual way of "saving" something for later use.
Whatever the reason behind why dogs love to burrow, there is no doubt that this natural behavior is part of what makes our canine companions so engaging and endlessly fascinating
Burrow beds for dachshunds
Your dachshunds will love a burrow bed, as it gives them an environment where they can feel safe and relaxed. Dachshunds like to sleep inside the house with their humans, where they are warm and comfy, so the best bed for them is one that they can burrow into. The best place to locate your dog's bed is a warm and dry corner of your house, this will provide a place where your dog can feel safe throughout the day and sleep warm at night.
How to choose the right bed for your dog.
The first thing to consider when buying a bed for a dachshund is to avoid raised or high beds that force your dog to leap up and down as this may hurt his back. So look for low beds that allow your doxie to easily get in and out without jumping. It's also important to look for a bed that is warm and cozy all year round providing a comfortable environment where your dog can burrow a get a good sleep.
It's also important to keep your dog's bed clean, so look for beds with machine washable and dryable covers. This is especially important for dog beds that are placed indoors, as they can get very smelly with time. So, buying an easy-to-wash bed is a good idea.
Dachshunds are very active and playful little dogs, so choose a bed that will support your dog's play habits. Look for beds that have comfortable cushioning, raised edges, and enough space to allow your dog to move around easily.
Here are some of the best dachshund burrow beds to help you find the right one for your dog:
The Best Burrowing Beds For Dachshunds
1. Snoozer – Luxury Cozy Cave
The Luxury Cozy Cave provides warmth in winter and keeps your dog cool in summer with its Sherpa lining. This burrow bed is easy to maintain thanks to its removable washable and dryable cover. This dog bed is not only comfortable for your dachshund but is also very easy to wash.
The oversized cozy design accommodates standard dachshunds as well as miniature ones. This burrow bed offers orthopedic support, which along with its overstuffed filling makes this a perfect plush dog bed to relax on.
Dachshunds can't resist the snuggle in the comfort of this comfy dog bed.
The rugged build and quality materials make this bed very durable. And, because the materials used are not treated with any chemicals, this bed is safe for dogs that like to chew on everything.
2. Best Friends by Sheri – Cozy Cuddler Luxury Orthopedic Dog Bed
The Cozy Cuddler Luxury Orthopedic Dog Bed is perfect for your restless dachshund, who deserves the most comfortable sleep in the world.
This bed's thick walls are lined with faux fur to keep your pet warm, and its orthopedically friendly design encourages muscles to relax while your dog finally catches some zzzs.
Made from pet-friendly materials, and resistant to dirt and water, this bed can also help protect your floors or rugs from damage.
Also, this bed is washing machine and dryer safe. Making it very easy to clean. It's easy to see why this is one of the best pet products on the market, they've thought of everything!
3. Furhaven – Snuggery Hooded Burrowing Cave Tent
The Snuggery Hooded Burrowing Cave Tent is the perfect spot for the dachshund who loves to burrow and cuddle.
This cozy bed features a sherpa-lined sleep surface complete with a built-in hood that can be converted into a tented burrowing cave!
The exterior of this top-quality product has an easy-care suede cover that protects against scratches, dirt, and spills for functional longevity.
This bed features gel-infused memory foam that helps with joint pain and discomfort, by improving the body alignment of your dog. While also providing a cooling effect.
4. Furhaven – Cozy Pet Beds for Small Dogs
This Cozy Pet Beds for Small Dogs is cute, cozy, and comfortable! The Snuggery Hooded Burrowing Cave Tent is the perfect size for a dachshund.
This dog bed is made of ultra-plush faux fur and soft memory foam, so it's perfect for any dachshund who likes to burrow into cozy places!
The bed's roof can be used as a blanket or converted into a tented burrowing cave with the included plastic tubing. And all that cushioning means there's no more worrying about pressure points or joints sore from an uncomfortable night's sleep.
The deep-dish cushion designs provide ample support all while providing a soft layer of memory foam to help create a cooler night's sleep.
5. Sleep Zone – Cuddle Cave
The Cuddle Cave provides a comfortable, safe place for your pet to rest at night. It's made to last and is machine washable.
The cozy plush interior offers your dachshund the feeling of comfort and security. While the Faux Suede exterior makes it look attractive and elegant. The materials used in this bed are 100% pet safe, so there is nothing to worry about.
This is a great bed for a dachshund to burrow in. With Sleep Zone your dog will enjoy countless hours of comfy sleep or cuddle time. Every household needs a cave like this one, especially during cooler temps when our dogs want to curl up even more than usual!
Keep in mind that this bed is smaller than many other brands on the market. It's the perfect size for a miniature dachshund, but might be too small for a standard dachshund.
6. ChillyPaws – Handmade Personalized Snuggle Sack
Help your pup fall asleep on a cloud with the super-soft, Minky Dog Bed from Chilly Paws. It's made-to-order and includes an embroidered personalization for that beloved Doxie who deserves only the best!
Cuddle up and take a nap with your favorite pup! The Minky Snuggle Sack is the ultimate bedding set for lounging, snoozing, and dreaming.
Crafted from breathable fabric and lined with Furry Sherpa or cozy Minky Fabric, you can tailor this dog bed to be just right for your pet's sleeping style.
7. Furhaven – Pet House for Dachshunds
Who doesn't love sleepovers in the Fairhaven pet cave? This dog bed is perfect for any size pup looking to hole up warm and cozy, enclosed by soft wool felt walls.
The cave comes in two zippered partitions so you can set it up easily in your home or take it with you if you're on the go. It also makes every pet parent's job easy, there's no need to scrub out stains because our innovative design means this product is just as easy to clean as it is convenient to use!
The cave provides a cozy and insulated nestling cave for dachshunds by surrounding them with luxurious wool felt walls.
With just two zippered partitions, this hideaway has all of the benefits you're looking for when providing your furry friend with their perfect home: it's easy to clean up, portable, and set up in seconds.
8. TwoSweetPeasandaBoo – Snuggle Sack
Do you have a Dachshund that always wants to burrow into the comfiest blanket you own? This Dog Snuggle Sack is perfect for your furry friend.
Sometimes your dog just wants to get in, go under and sleep. A good snuggle sack is fantastic when they just want to cozy down.
Perfect for dachshunds who love to curl up and burrow under covers. All the snuggle sacks are handmade from Minky Sherpa or Faux Fur and the exterior fabric is made of fleece.
This comfy bed is for dachshunds that like to burrow and get warm under something extra soft.
Check out more products for Dachshunds
Alternatives to burrow beds that your dachshund will love
Revol Dog Crate
Crates are very useful for pet owners for many reasons. Plus, this crate is so comfortable that your dachshunds will be able to use it every day to snuggle up and sleep.
This crate is a revolution in design and function! Inspired by top quality standards in the baby industry, Revol is made with premium materials and features ergonomic doors that are easy to use. Transporting and setting up your dog's crate has never been so simple, just fold it up and go!
Do you hate dealing with traditional, bulky dog crates? Well, Revol has your solution! This attractive and easy-to-use crate is perfect for travel, training, or just everyday use. Plus, Revol's collapsible design makes it super easy to transport and store.
Snooz Crate Pad
Are you looking for a comfortable place for your dachshund to lounge? Look no further than the Snooz Crate Pad. This orthopedic pad is made with premium CertiPUR-US® memory foam, ensuring your dog has a cushiony place to rest. This orthopedic dog crate pad will help relieve pressure points and support your dachshund's joints. The tear-resistant cover can be easily washed, making it easy to keep this pad looking and smelling fresh. Best of all, the Snooz Crate Pad is designed specifically for Revol crates.
Final thoughts
So if you're looking for a little help understanding why your dachshund loves to burrow under blankets, hopefully, this article has given you some insight. And if you're in the market for a good dog bed for your wiener dog, be sure to check out our list of the best beds for dachshunds. They'll thank you for it!
Check out this related post: Leaving your dog home alone