There is nothing more adorable than cuddling with your dachshund when you are watching a movie on the sofa or having a dachshund by your side when you rest in bed. Plus, Dachshunds are very clingy and love to cuddle with their humans. So they love to climb up the sofa or bed to be by our side.
But jumping up and down the couch or bed is not the best thing for your dachshund. So if you want your dachshund to curl next to you on the couch, you might as well get yourself a dog ramp.
We have made a selection of the best dog ramps available on Amazon and Etsy, so you don't have to waste your time searching for the right ramp for your dachshund.
Are ramps good for Dachshunds?
Dog ramps are very beneficial for dachshunds. Due to their short legs and long backs, dachshunds are prone to IVDD. In addition, the stress that affects the spine of dachshunds every time they jump up or down a piece of furniture can trigger an IVDD case.
Dog ramps help our dachshunds get on and off furniture without putting their spine at risk.
If you want to know more about IVDD in dachshunds, click here to read the post we wrote about it.
Do dachshunds need ramps?
Dachshunds are little creatures that love to jump on and off of furniture. While it may seem like it doesn't bother them at all, this isn't always the case. Just because they look so effortless doesn't mean it's okay for them to take these risks of suffering a spinal injury.
Your dog will thank you for getting a pet ramp. This can help reduce the amount of time he spends jumping up and down, risking injury. A dog ramp will also make things easier for you because you won't need to carry your dachshund every time he wants to get on or off the couch.
The best ramps for Dachshunds
CozyUp Bed Ramp by PetSafe
The PetSafe CozyUp Bed Ramp is perfect for giving your dachshund easy access to their favorite spot on the couch or bed. The durable frame is reinforced with furniture-grade wood and can hold up to 120 pounds, and the sleek cherry or white finish will complement any home décor. The high-traction carpet surface makes it safe and easy for your doxie to navigate, and at just 16 inches wide it takes up minimal space.
Couch Ramp for Dogs by DoggoRamps
DoggoRamps are the perfect way to keep your Dachshund safe and comfortable while accessing couches and other furniture. These ramps are made of solid hardwood for durability and are adjustable in height, making them a perfect fit for any piece of furniture. Plus, they come fully assembled in the box, so you can get started using them right away! And don't worry, they have a built-in anti-slip grip to keep your dachshund safe as he conquers new heights. You can choose from one of five fun color options to perfectly match your decor. 
Ramp for Couch by Royal Ramps
This ramp is a top-quality product that is handmade in the United States using only the best materials. The upholstery-grade suede fabric is stain-resistant, machine-washable, and features an easily removable zipper closing design. Your dachshund will love this ramp because it provides a safe and easy way to get up on the couch.
This Dog Ramp for Couch by Royal Ramps is a top seller on Etsy and with good reason! It's handmade in the USA with only the highest quality materials. Give your pup the royal treatment with this premium dog ramp!
Dog Ramp for Couch or Bed by BuddiesPetShopNY
The Dog Ramp for Couch or Bed by BuddiesPetShopNY is an indoor soft dog ramp that is perfect for small and medium breeds up to 50 lbs. It's made with shock-absorbent high-density foam to protect your pet's joints and features a non-slip surface for safe use. It is perfect for giving your furry friend a helping hand up onto the couch or bed. The removable cover makes cleaning a breeze, and the portable design means you can take it with you wherever you go. Give your dachshund the freedom he deserves with the Dog Ramp for Couch or Bed by BuddiesPetShopNY. 
Dog Ramp by RamPetDesigns 
RamPetDesigns Dog Ramp is perfect for helping your doxie friend get up on the sofa or into bed. This ramp is handmade with five adjustable height settings and a foldable design that makes it easy to store. Plus, the increased grip carpet runner surface provides extra stability, while the scratch-resistant rubber grips keep your floor safe from scratches. These ramps have been load tested at 70lb, so they are strong and sturdy enough for your dachshund. Plus, it includes a list of training tips to ensure that your doxie will love using the ramp. Note that our ramps are not recommended for tall beds.
Ramp For Bed or Couch by Pawnotch
This ramp is perfect for helping your furry friend get up on the bed or couch. This versatile ramp can be adjusted to fit heights from 14″ to 24″, and can hold over 200 lbs. Making it perfect for small or large dogs. The traction mat ensures a safe and stable surface. The ramp is fully collapsible for easy handling and traveling, and it's designed and manufactured right here in the USA. Help your doxie stay active and comfortable with the Pawnotch dog ramp.
Adjustable Pet Ramp by MelkTemn 
The MelkTemn Adjustable Pet Ramp is made of high-quality wood and can be adjusted to different heights, making it perfect for small dogs. This ramp is adjustable in height so you can find the perfect fit, and features a Paw Traction Mat to keep your furry friend safe.
It's also foldable for easy storage and can hold up to 100 lbs. 
Dog Ramp for Beds by DoggoRamps 
These perfect dog ramps are for small dogs up to 40 lbs who need a little help getting up onto their bed. This hardwood ramp is adjustable in height, with seven intervals from 12″ to 37″, so you can find the perfect fit for your dachshund. The included safety rails and anti-slip grip keep your doxie safe and steady as he makes their way up. Plus, there are five finish options to choose from so you can perfectly match DoggoRamps to your home décor. Don't let your dachshund miss out on the joy of sleeping in bed.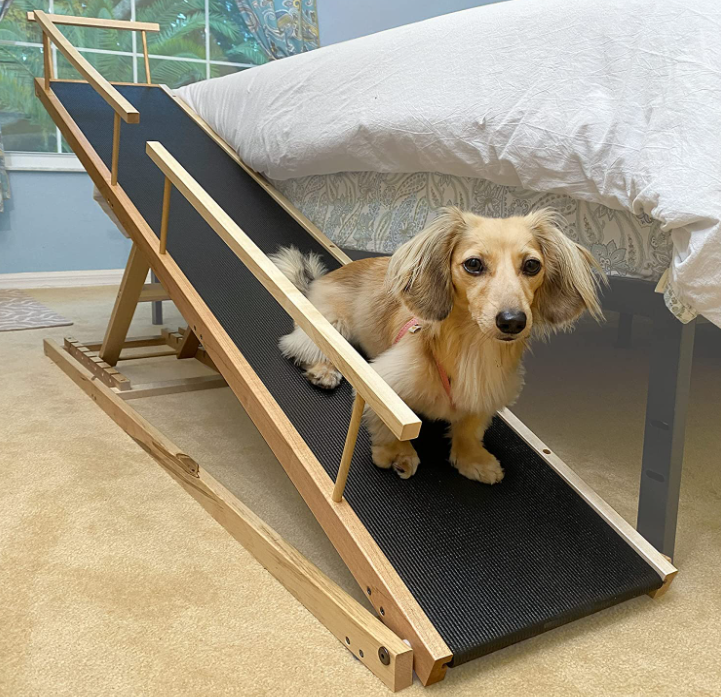 Adjustable Ramp by OzarkNaturalDesigns 
You'll be amazed at how easy it is to help your dachshund get around with this adjustable ramp from OzarkNaturalDesigns! With a gentle incline and rubber feet to keep it in place, this ramp is perfect for small to medium dogs up to 50 pounds. Plus, the carpeted surface provides traction and helps keep your pet safe. The ramp adjusts to three different heights, so you can find the perfect fit for your pet. This ramp has rubber feet to keep it from sliding or scratching on smooth floors.
Dog Ramp For The Sofa by HaustierStore 
This comfortable, foam-based ramp is handmade and designed to be stable and safe for both dogs and owners. The small dog ramp is perfect for dachshunds. Give your pet a little extra help getting up onto those favorite spots with ease. Best of all, the cover is removable and washable, so it's always clean and fresh. Plus, they offer interchangeable covers in a variety of fun colors to suit your style. Give your pet the easy access they deserve with HaustierStore's dog ramp today!