Dachshunds have become a popular breed in America and around the world and with good reason. They are very energetic, cute, and make excellent companions and family pets. They were bred as scent hounds to hunt badgers, rabbits, and other burrowing prey, and now they are also popular show dogs.
If you are considering including a dachshund in your family, you can buy a puppy from a reputable breeder. Or you can also adopt a dachshund from a shelter. We do not recommend pet shops, as these places often get their pups from puppy mills where sadly, dogs are exploited and maintained under poor conditions.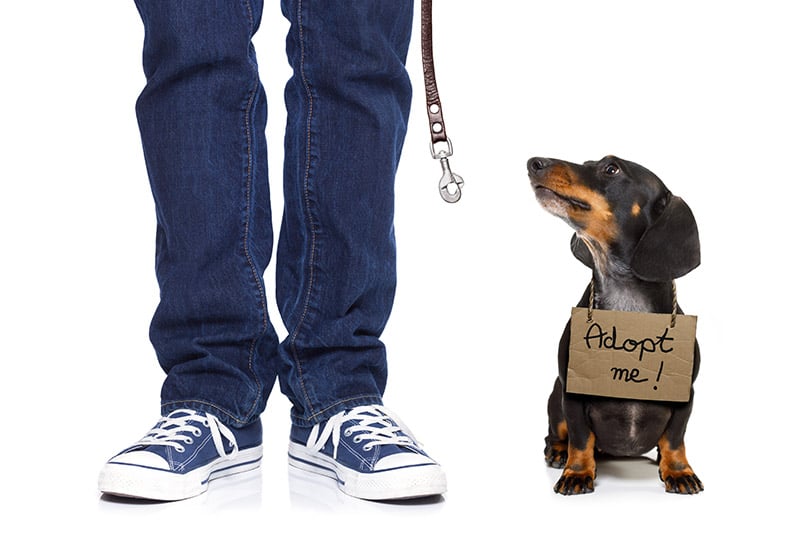 What you need to know before adopting a Dachshund
Is a dachshund the right breed for you?
If you are thinking of getting a dachshund, you should do some research about this breed's care and health needs. Dachshunds are relatively low-maintenance dogs but they do have some specific needs you should know before adopting one.
Dachshunds are lovely, loyal, intelligent, and very strong-willed. Their big personalities can make them a bit of a challenge to raise and train, so you need to make sure your personality and the breed's natural traits and temperament are a good match so you can have the best experience with your dachshund.
Here are some articles with helpful information for anyone thinking of bringing a dachshund to their home.
Ask yourself if your lifestyle coincides with having a dog
Unfortunately, a lot of people get a dog or a puppy for the wrong reasons, we know how cute dachshunds can be, so you might be tempted to get one because they look adorable and do not really think about the commitment and responsibility of owning a dog. They are living beings that need care, attention, and patience. So you need to evaluate if your lifestyle allows you to have the time and resources to care for a dog.
For example, if you work long hours you need to think about who will be taking care of the dog while you are away. Dogs can be left alone for a few hours just fine, but if you are away most of the day, then you need to have someone that can take proper care of the dog. You can rely on willing family members to share this responsibility.
Make sure you can stick to a schedule
Dogs need routines. You need to take them on walks daily once or twice a day as well as dedicating some time every day for short training and play sessions. This will help develop a strong bond between you and your dog and make your life and your dog's so much easier and pleasant. Dogs, especially dachshunds, that are bored or under-stimulated physically and mentally, will be likely to misbehave and can become destructive of things around the house.
Dogs are not cheap
One of the main reasons people end up giving away their dogs is because they cannot afford them. There are a lot of costs that come with owning a dog:
Quality food
Dog Supplies (collars, leashes, beds, crates, etc)
Vet expenses
Grooming and hygiene supplies
You need to also consider additional health expenses that are not regular vet visits. Dachshunds are generally a healthy breed, but as with any other pet, they can get sick and may need treatments that can be expensive and you need to be able to cover those expenses if needed.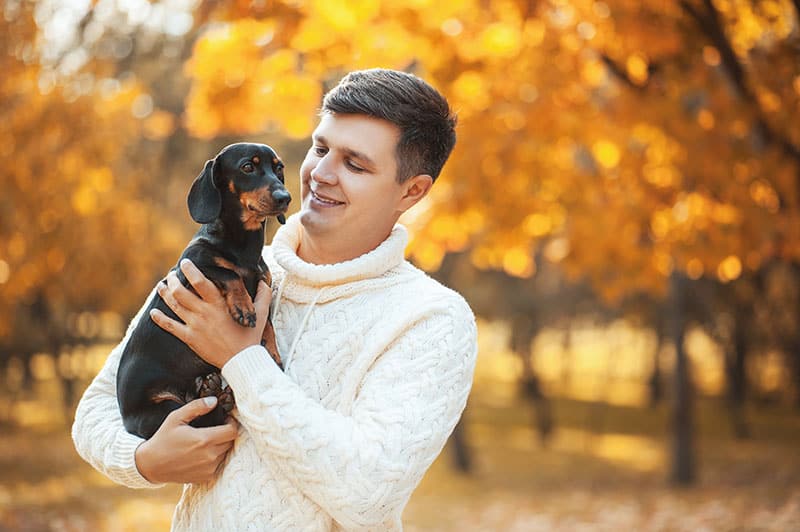 Requirements for adopting a Dachshund
If you have already decided that adopting a dachshund is the right option for you, then you should contact a local dachshund rescue organization to find out their adoption process. Generally, you can expect them to have a screening process in place to ensure the dogs get a responsible, appropriate owner. This process varies from shelter to shelter. You may be asked to attend an interview, fill out an application, and/or sign a contract. In some cases, they may require a home visit or other requirements.
These requirements are beneficial for both the dog and adopter, as they increase the likelihood of finding a dachshund that is the right fit for you and your family. Most shelters will allow you to visit the dogs and interact with the one that catches your attention. If you already have a pet at home, you should also take them to the shelter to interact with the dog that interests you and see if they get along before bringing the new dog home.
Cost of adopting a dog from Rescue
Adoption expenses shift dependent on the kind of shelter or animal rescue, however normally run from $100 to $350. That may appear to be a great deal for an association to charge when sanctuaries are flooding with dogs that need homes. Still, shelters use that to cover working costs and to give medicinal services to hounds.
Helping your rescue dog adjust
Adopting a dog is a very rewarding experience, but it requires patience as your new friend adapts to its new home. Here are a few things to know to make the transition process less stressful and to make sure that you and your new friend get off to a great start:
In the first couple of weeks, expect your new dog to be on its best behavior. Not always, but often dogs behave better than normal because they don't feel confident yet in their new environment. After a couple of weeks, you can start to see their true personality come out. So just keep this in mind because you are probably going to have to correct some bad habits or behavior later on when your dog feels more comfortable. Don't be surprised if after a week or so your dog starts to misbehave a little, that is very common, and you just have to be prepared to overcome that with some training.
Keep your dog's world small for the first few days. Keep in mind that if your new friend has been living in a shelter a house can be a bit overwhelming for him/her. So introduce your new dog to only a few spaces of your home the first couple of days and then slowly let him explore more. A crate will be of great help because dogs, especially dachshunds, are natural burrowing or denning animals, so make sure you make their crate a nice place for them to feel guarded and safe.
Timing and consistency are key. When you start teaching your dog the rules of the house you need to have good timing meaning that if your dog is doing something wrong like chewing on furniture, jumping on counters, or any other bad behavior you need to be vigilant because you only have a few seconds to correct him/her or stop the behavior, otherwise your dog won't know what you want him to do. The other key thing is consistency, you will need to correct or teach your dog several times so that it will get the message loud and clear of what is acceptable and what is not.
Spend as much time as you can play with your new buddy, it is important to dedicate time to your new dog, and also teach him some basic training while playing to make the learning process a fun experience. This will help create a strong bond between you and your new best friend and will make him feel loved and safe.
Rescue dogs are great companions, sometimes they just need a bit more time to settle into their new home. Be patient and you will have the most rewarding experience knowing that you are giving them a new opportunity to have a happy life.
Dachshund rescue organizations
Doxie by Proxie (doxiebyproxy.org)
Long dogs and friends rescue (longdogsrescue.org)
Coast to coast dachshund rescue (www.c2cdr.org)
Dachshund Rescue of North America (www.drna.org)
Furever Dachshund Rescue (fureverdachshundrescue.org)
Furry angels dachshund rescue (furryangelsdachshundrescue.com)
GetALong Dachshund Rescue (www.getalongdachshundrescue.org)
Little paws dachshund rescue (www.littlepawsdr.org)
Midwest Dachshund Rescue (mwdr.org)
Sophia's Grace Foundation (sophiasgracefoundation.org)
All American Dachshund Rescue (allamericandachshundrescue.org)
Dachshund Rescue of North America (www.drna.org)
Central Texas Dachshund Rescue (www.ctdr.org)
Dachshund Rescue South Florida (dachshundrescuesouthflorida.com)