Dogs need to play!! They have inherited the instinct of hunting and of constantly looking for food from their wild ancestors. For modern dogs, this has been replaced with playing. A dog that doesn't play enough will become bored, which can be problematic.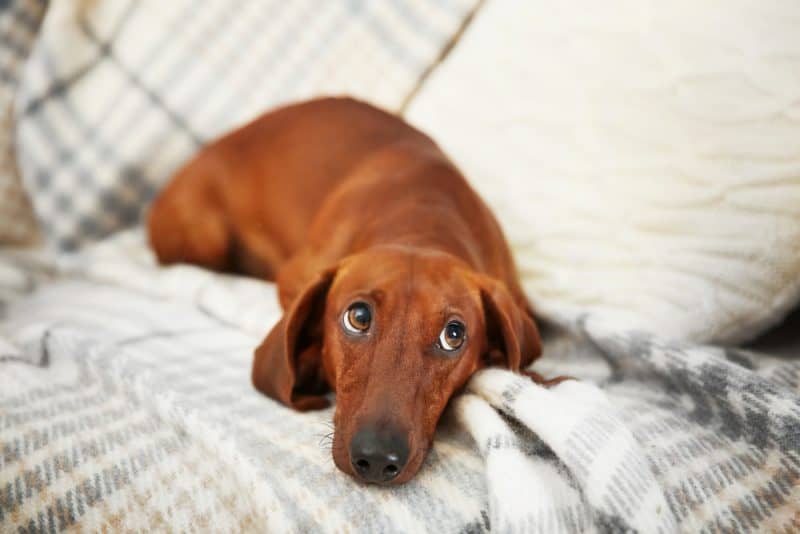 How to Keep a Dachshund Busy
A bored dachshund can be trouble, especially when left home alone. They can be destructive to your house, furniture, and yard. Your dog can chew up everything he finds. Bored dachshunds also like to raid the trash and make a mess while they are at it. Dogs also tend to bark and howl when they are alone, which can cause trouble with your neighbors.
Finally, bored dogs also resort to digging and making a mess of your yard. All this misbehavior is motivated by boredom and separation anxiety. So, keeping your dachshund busy and entertained is an effective way of managing this, and saves you a lot of trouble.
Check out this related post:  Are dachshunds good apartment dogs?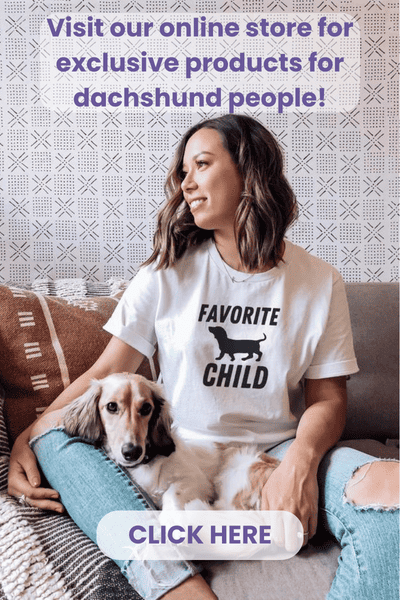 Dealing with your dog's boredom
Dachshunds and other hunting breeds need a higher level of daily stimulation and activity. Otherwise, your doxie will get bored.
Here are some things you can do to keep a Dachshund busy: 
Take your dog for a walk
Enroll your doxie in classes with a local trainer. 
Socialize your dachshund: Have a playdate with other dogs
Use food puzzles and interactive dog toys
Have a vigorous play of fetch with your dog 
Here are some gadgets to keep your dachshund busy and entertained
Treat dispensing toys
These toys are fantastic! Stuffing a dispensing toy with treats and food inside will keep your dachshund busy and entertained at least for a while as he tries to eat the delicious treats hidden inside. There are some things to consider when looking for a treat-dispensing toy. The first thing is that the toy must be made from a strong, durable, and most importantly, nontoxic material.
The second thing you should consider is that the toy should be dishwasher safe so that it can be cleaned easily. Finally, look for toys that will challenge your dog, if the treats are easy to get, your dachshund will eat them fast and then forget the toy and get bored. But if the treats are hard to get, your dog will be mentally stimulated and entertained for a long time, as he finds a way to eat the treats.
Check out other recommended dog accessories and toys
There are a lot of dog toys available. But the Kong toy is one of the best treat-dispensing toys out there. Kong is the best toy to stuff with food. They are made of hard and durable rubber, are non-toxic, and are dishwasher-safe. You can fill your Kong with all kinds of dog treats, you can even keep one filled with peanut butter or wet dog food in the freezer ready for your dachshund, this will keep your doxie busy for hours! Kong is available in many different sizes and there are also delicious fillings specially made for the Kong Toy.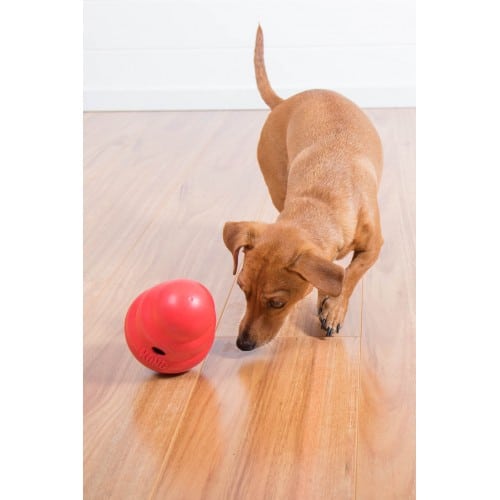 Get it from Amazon here
Furbo Treat Dispenser Get it from Amazon here
iFetch Dog Ball Launcher Get it from Amazon here
Here are some great products to keep your dachshund busy for hours
Playing fetch is one of the best ways to keep your dog busy, however, dachshunds can be very energetic and their need for playtime can exceed your capacity. Luckily, there are automatic dog ball throwers that will keep your dog entertained for hours. Automatic ball throwers are a great tool to keep your dachshund busy, this automatic dog ball launchers will provide hours of fun and exercise for your dog.
Another great way to keep your dachshund busy, especially when you are not home, is a smart dog treat launcher, these gadgets have cameras that will allow you to keep an eye on your doggo and toss them a treat no matter where you are.
Related post: Dachshund Exercise Needs: A Guide to Keeping Your Wiener Dog Active and Healthy